Grimms and Bauspiel both make sets of thin flat wooden tile blocks. The Bauspiel set is their "Building Tiles" and, the Grimm's is the "Color Mats"–both are beautiful sets and while similar in essence, this comparison shows how these two sets are different.
If you're looking to purchase, I've included links to shops that carry these sets at the end of the post.
Looking at stock pictures or reading descriptions, it is easy to see how these two sets may look alike; when you set them side-by-side, the differences abound.
The Grimm's set has 40 pieces, 2 each of 20 colors–all squares.

The Bauspiel set has 52 pieces: 4 each of 10 colored squares, 1 each of 8 colored rectangles–twice the size of the original square, and 4 large squares, each a different color, each four times the size of the original square.
The Grimm's color mats (yellow here) are all 4cm by 4cm.

The smaller Bauspiel squares are 5 cm by 5cm.
Bauspiel rectangles are 5cm by 10cm.
Bauspiel large squares are 10cm by 10cm.

There are some sets in which the Bauspiel 2.5cm scale is tougher to integrate with the Grimm's 4cm scale, but with the Building Tiles, we find that the bigger size is a distinct advantage allowing for more elaborate structures.
The Grimm's color mats (yellow) have a smaller radius corner. The Basuspiel (blue) have more rounded edges.

We think that the difference is not enough to affect the build characteristics.
So what's the biggest difference between the sets? Beyond the color spectrum and shapes, it is the total area you're able to cover with each set. In the display below, Grimm's Color Mats are on the right (connected) and the Bauspiel Building Tiles are on the left (connected)–you can cover quite a lot more ground or roofing or flooring in any build with the Bauspiel set.
As always–Bauspiel hit it out of the park with the box for this set–it's strong enough for Mr.9 to stand on–and really I'm quite confident my husband or I could stand on it with no deflection. The Grimm's box absolutely serves it's purpose to hold the set, but I'm always wooed by the sturdy construction of the Bauspiel boxes that make them as sturdy as any of the blocks.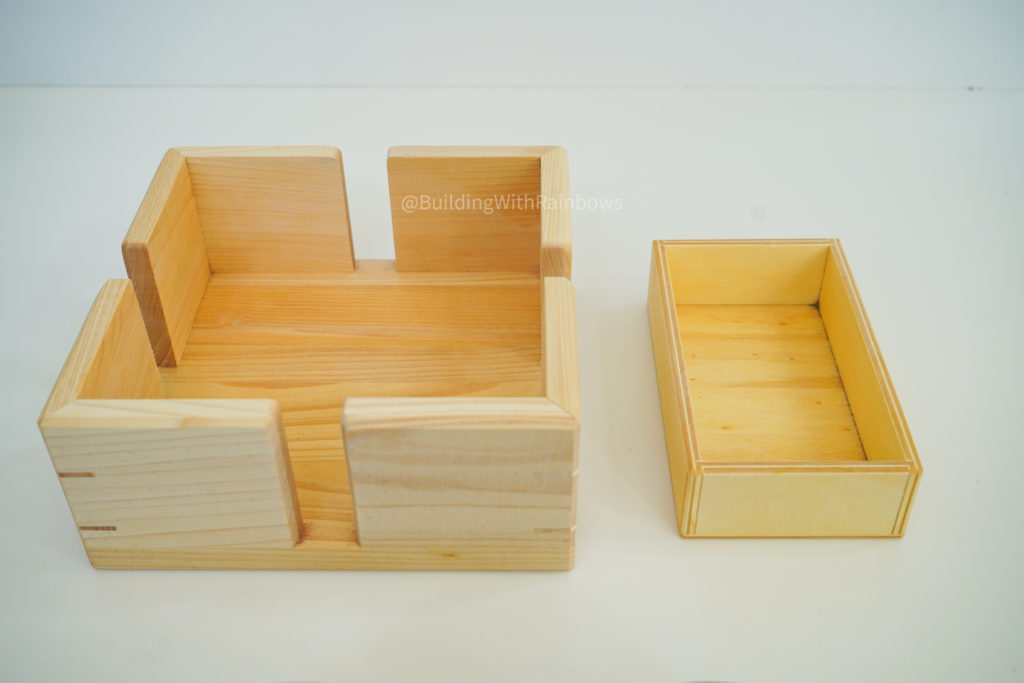 The links in this page are affiliate links. That means when you purchase through them, Building with Rainbows receives a small commission at no cost to you. Thank you for using them and supporting this blog.