Before we got deep into open-ended and wooden toys, we had our fair share of plastics and lights and characters. Each would attract the kids, but never keep their attention unless it was a toy that played for the child—and even if it has letters and numbers on it, the kid doesn't learn as well if they're not the one running the play. With open-ended toys, the kids do all of the playing and it stokes creativity as they have to build and design the idea in their mind instead having a preformed thing with nothing left to imagine. When the kids are actively engaged in imagining their world, I find they get deeper into the play and it holds their attention for hours instead of moments.
We've always loved blocks and got our first sets of Grimms blocks when the kids were 3/newborn, and for years they've been loved and played with. In the last couple of years, we've added loose parts, peg people, and some wooden figures. It's been SO exciting watching the kids' play develop. This is the Grimms "Basic Building Set"–its one of the first we brought home, and is still (ages 8/5) one of our most-used sets today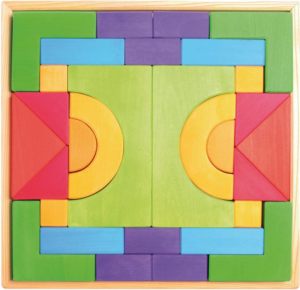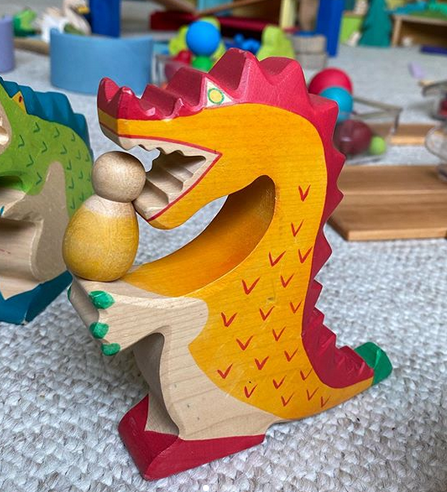 When we just had blocks, the kids would build fun structures, but the play did not often extend past the assembly phase. As soon as we brought in loose parts, the play expanded exponentially. The familiar but undefined shapes became decorations, food, and characters in a game. The peg people—while they have a human shape, have also featured as condiments, (check out that dragon with his salt shaker), bags of money (that's one wealthy racoon) and of course also as people.
And look at how much adding peg people to this build brings it from "interesting structure" to "alive". What was originally a stacking idea, was then deconstructed into ships that sailed off to find a new land.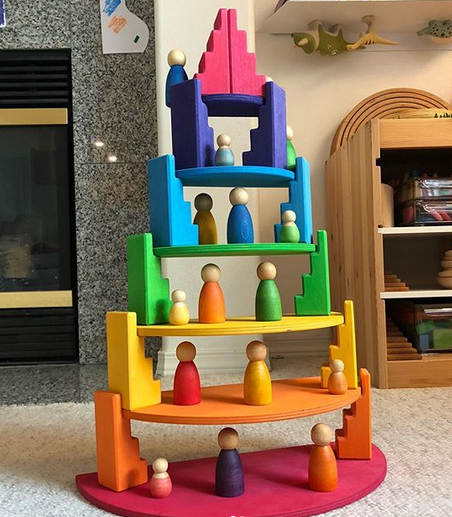 Perhaps the classic image of "ABC" blocks leads people to think that blocks are for little kids. I've actually found that open-ended wooden toys are some of the few that hold my (slightly bigger) kids' attention for hours on end. They will start with a little idea (snail is in a bad mood) and all of a sudden a forest has been built, snail is rampaging through it and the bears have assembled and disguised a fort as a station from which to defend their forest.
It took a while to add flora and fauna into our collection—for a long time the green blocks were chickens and stacks of blocks were used for trees, and it worked GREAT. Then….Santa left the Holztiger penguin family in my stocking one year, and from there we slowly acquired a delightful menagerie and range of plants. Most often they're used simply in play, but we also bring them out today in our school-at-home mode when we're talking about different ecosystems, food webs and sometimes just to act out emotions.
But what about the kid's favorite characters? For the most part, they simply use the peg people and animals we have to represent whomever they're interested in at the moment—and with no concern or hesitation on their part. We did end up building a mini "frozen" cast out of Ostheimer figures, but the Ostheimer characters show up in other play as other characters too—and I absolutely love that we don't end up with forgotten bits under the sofa when they move on to new stories.

I cannot recommend open-ended toys highly enough! Do you have any questions? What's your favorite open-ended toy? Drop me a note below!